The 5 Best Wireframe Tools to Maximize Your Productivity
You'll need to design before you decide on a logo, sitemap, fleshed-out content, or branded font. A wireframe is essential for mapping out what your end-UX users' experience will be like. Where will the UX essentials be placed on the screen and how will they be related to one another? What does the user see first, and how does the design guide their gaze across the page? Where will they expect to see common elements like help/contact buttons or an options menu? These are the kinds of questions you will answer for yourself while building a wireframe mockup.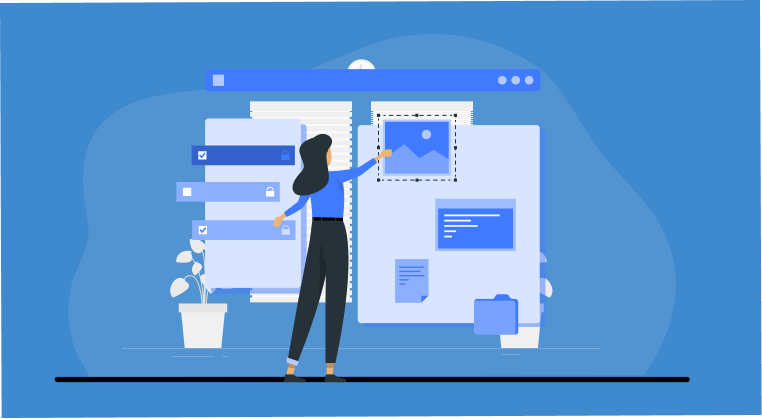 Some people may prefer the old-fashioned method of drawing a quick wireframe with a pencil and paper. I prefer to save a few trees by using a dedicated wireframing app instead. I've chosen some of my favourites to share with you today.
In this post, I'll discuss the best prototyping tools to include on your wireframe software shortlist, as well as how UX software can assist you in creating an app mockup that will impress any client. I will tell you what you should look for in web free wireframe tools, provide our evaluation criteria for assessing any mockup software, and provide a simple UI mockup tool comparison.
Criteria for Wireframe App Comparison & Key Features
What exactly do we look for in a mockup generator? What distinguishes certain wireframe apps from the rest? We have a solid set of criteria that we use to evaluate any new tool. Here is a summary of our current evaluation process.
UI (User Interface): Is it well-designed? Does it have clear displays and simple navigation? How is the user experience?

Usability: How easy is it to learn and master? Are there tutorials and training available? Is the company's tech and user support good? Is the software compatible with Android and MacOS, and does it have a mobile app?

Features and Functionality: How many and how powerful are the key website and app design software features and functions? I specifically sought:

Drag and Drop: Using drag and drop, team members can easily add and move UI elements and other design elements, allowing them to quickly create and modify wireframes.

Feedback and Collaboration Tools: It's critical to be able to manage feedback on wireframes easily, with the ability to leave comments, mark up wireframes, attach files, and collaborately build wireframes. Is this possible with the software's collaboration features?

Interactive Elements: allows you to create an interactive wireframe (also known as a ""clickable prototype"", ""interactive mockup"", ""interactive prototype"", and so on) that allows you to prototype the interactive elements by creating a clickable version of the wireframes.

Fidelity Levels: Can team members create a variety of wireframe types, including high-fidelity and low-fidelity, using the software?

Presentation Tools: Because wireframes are typically presented during the early stages of a project, either internally or to clients, the ability to quickly convert wireframes into visually appealing presentations is critical.

Revision History: Can you access previous versions to see changes and revert back to them? This saves your work so you don't have to redo it if changes occur.

Integrations: Does the wireframe app communicate with other applications? Are there any ready-made integrations or add-ons, such as Jira or Photoshop?

Value for money: Is the price reasonable in relation to the features, capabilities, and use case? Is the pricing clear, transparent, and adaptable?
The Digital Project Manager is supported by readers. We may receive a commission if you click on links on our website. Learn more about how we strive to be transparent.
Overviews of the Best Free Wireframe Tools
You could sift through dozens of web design tools until you find the best mockup software... Fortunately, you don't have to. I've done the legwork and gathered some of the best wireframing tools available.
A Fine Wireframe Tool for all purposes of business web-use
All-in-One Wireframe Software, With pre-built libraries for mobile and desktop, as well as ready-to-use templates, you can quickly generate low and high-fidelity wireframes.

Wireframing Collaboration

With remote access, you can collaborate with your team from anywhere. Drag and drop text, shapes, and photos onto the screen to quickly create wireframes.

Designs that are Responsive

Allow your designs to flow freely across all screen sizes and resolutions, and render them to look great on all devices.
Key Features:
Without any design skills, sketch your interface layouts quickly and easily.

Using a visual designer tool, create website and app mockups.

Collaborate with your team online to get everyone on the same page with your wireframes.

Visually diagram the structure and flow of your website or app to see how everything fits together.
2. Whimsical
Whimsical is a wireframe tool that allows anyone (even non-designers) to participate in UX design and create low-fidelity yet comprehensive wireframes.
Whimsical's wireframe mode comes with a library of customizable elements such as buttons, inputs, and checkboxes. The application includes thousands of consistent, categorized, and searchable icons that can be used inside buttons, form fields, or on their own.
Whimsical wireframes are designed to be expressive while remaining simple enough to keep the focus on the content. Whimsical wireframes do not require any additional apps or browser extensions to use because all of these functions are available within your browser.
Whimsical wireframes can be integrated with any Whimsical file type, allowing you to switch between mind maps, flowcharts, projects, and documents. Because wireframes have customizable permissions for editing, commenting, and viewing, they can also be used to share feedback.
Whimsical is directly integrated with Github and can be embedded in Notion documentation. It also works with any authenticator app to provide two-factor authentication.
Whimsical starts at $10 per user per month and has a free plan with limited features.
Starting at $10/user/month
3. Miro
As your teams design app wireframes and websites, use a visual collaboration platform to collaborate and centralise communication.
Miro has powerful wireframing tools that allow you to design your digital product or app on a variety of devices and screen sizes.
Wireframing by Miro.

Wireframes for a product.
Miro is an online collaborative whiteboard with over 1,000 templates such as mind maps, Kanban boards, Gantt charts, product wireframes, research boards, and flowcharts. It is used by teams at TransUnion, HP, Upwork, Cisco, Qlik, and Atkins, and is trusted by 99% of the Fortune 100. Miro's visual platform is designed for hybrid work and includes extensive resources for ongoing learning, such as Miro Academy, online events, and a community forum.
Miro provides a wireframing tool that includes an infinite brainstorming canvas, a robust set of widgets, prebuilt templates, toolkits for user story or customer journey mapping, wireframing, roadmap or sprint planning, retros, and other features. With digital workspaces, you can engage remote teams across formats, tools, and channels to enable asynchronous and synchronous collaboration.
We use Miro at The Digital Project Manager to map out content clusters and visualise content workflows from start to finish (ideas brainstorming) (publishing the content on our site).
Zoom, Figma, Asana, Microsoft Teams, Jira, Slack, Google Drive, Box, Airtable, Notion, Azure, and Webex are among the tools that have Miro integrations. Some integrations are only available in paid plans.
Miro is free to use for an unlimited number of members and includes up to three editable boards. Paid plans begin at $8 per user per month (billed annually).
4. Adobe XD
App for wireframing, designing, prototyping, and sharing web, mobile, voice, and other experiences.
The Adobe XD toolkit, which includes a unified assets panel for brand consistency, features for easy replication of lists and other elements, responsive resizing of content, collaborative presentation and chat features, tooling, and APIs to enable custom integrations, and more, enables creative teams to design at scale.
In terms of our evaluation criteria, it doesn't get much better designed and functional than Adobe software. While Adobe has a steep learning curve, they are also excellent at providing training videos and written tutorials, so you never feel left behind.
Airtable, Trello, UserTesting, Google Sheets, CloudApp, Overflow, Stark, Angle, UI Faces, and dozens more have app integrations.
Minor criticisms include the animations and auto-animations features not being as fully functional as they could be. Furthermore, there is no way to include micro-interactions or links between prototypes, so users must pile artboards into a single file, significantly slowing down the programme as it grows.
Adobe XD costs $9.99 per user per month but also has a freemium version.
5. Sketch
Vector editing software for collaboratively transforming early concepts into pixel-perfect artwork.
Sketch can help you turn your ideas into ready-to-code project designs with an intuitive vector editor, lightning-fast prototyping, and powerful collaboration tools. They provide pixel-perfect accuracy, hundreds of plug-in options, non-destructive editing, export presets, code exports, and other features.
If you read our evaluation criteria, you'll notice that we're looking for drag and drop capabilities, collaborative feedback options, interactive elements, presentation tools, and revision history in features and functionality. Sketch easily covers all of these bases.
On their website, they list numerous integration options as well as plugins for Sketch users. Crystal, Drafta, Invision, Lingo, Marvel, Overflow, Proto.io, UXPin, Wake, and Zeplin are among the integrations.
A Windows version of this wireframe tool is one feature that it lacks. This tool is only available for OS X, which will immediately turn off many potential users. To get the most out of the software, you'll probably need to install a lot of plugins, which can be time-consuming for teams looking for a ""ready to go"" app.
Sketch for Teams costs $9 per user per month and comes with a 90-day free trial.
6. Omnigraffle
Intelligent grouping, snapping, and alignment tools for Mac diagramming software for precision design
Omnigraffle includes a plethora of template resources to help you get started quickly with a wireframe.
Artboard presentation mode, keyboard shortcuts for import/export, interactive actions, mouseless editing, non-destructive shape combinations, text conversion into shapes, diagramming subgraphs, and other features combine to make this user-friendly wireframing software an excellent choice for any sized team.
Omnigraffle truly excels in our evaluation criteria's usability category. They have an entire section of their website dedicated to manuals, and each document is available in a variety of formats to meet the needs of their users.
They also have tutorial videos, prominent support contacts prominently displayed throughout the website (email, phone, and social media), and a dedicated Slack channel.
Omnigraffle currently does not support any integrations, which is a significant disadvantage of the software.
Omnigraffle, like Sketch, is only available for Apple OS, which is a disadvantage for any Windows user. Furthermore, as real-time feedback and engaged group work are essential to any planning/design project, the app's collaboration and communication functions could be expanded.
Omnigraffle's Standard licence costs $149.99 and comes with a free 14-day trial as well as a 30-day return policy.
What Makes the Best Wireframe Tool?
#1
Create unlimited mockups and prototypes for your projects
#2
Build mockups using drag-and-drop builder
#3
Choose from the wide range of pre-built templates
#4
Share mocks and collaborate across teams in real-time with notes and activity logs
#5
Design, run user tests and share mockups across teams
#6
Get a control over mock versions
#7
Share designs with your team through mock links
#8
Design mocks faster using components such as containers, charts, images and buttons
#9
Unbelievable pricing - the lowest you will ever find
#10
Everything your business needs - 50 apps, 24/5 support and 99.95% uptime
Join the SaaS Revolution
All-in-One Suite of 50 apps

Unbelievable pricing - ₹999/user

24/5 Chat, Phone and Email Support