Create Product Mockups with the Best Mockup Software
This article briefs on the purpose of using the best mockup software along with the benefits & tips to create effective mockups.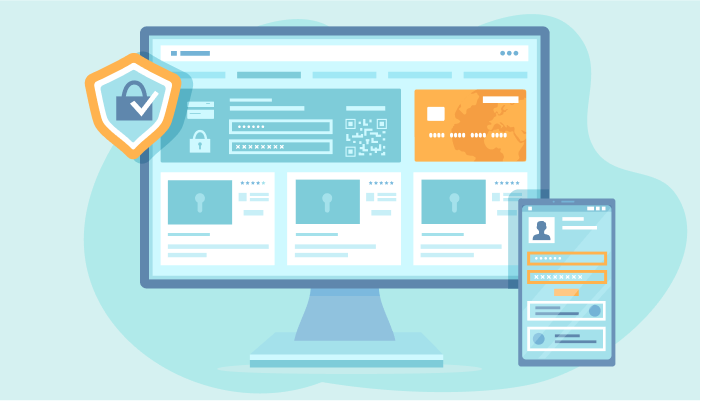 Every business owner likes to alter their design process according to their wish. Here is where mockups come into the picture. Mockups allow the investors to gain real-time insights into the process and a glimpse of the final product your organization produces. In the first phase of wireframing, the basic layouts of your project are well-determined. Once you obtain a clear picture of the process, you can deep dive into the visual detailing.
Mockups are widely used by designers and product owners to design logos, business cards, poster cards, tags, letterheads, and so on to enhance their visibility in the market. It plays a crucial role in an organization because mockups answer all your visual designing questions, further allowing you to design high-fidelity prototyping with a lucid visual picture in the development phase. While preparing visual content, 33.7 per cent of the resources are spent on designing. Thus, it is essential to inculcate automation in the designing process wherever it is necessary.
Benefits of Using the Best Mockup SOftware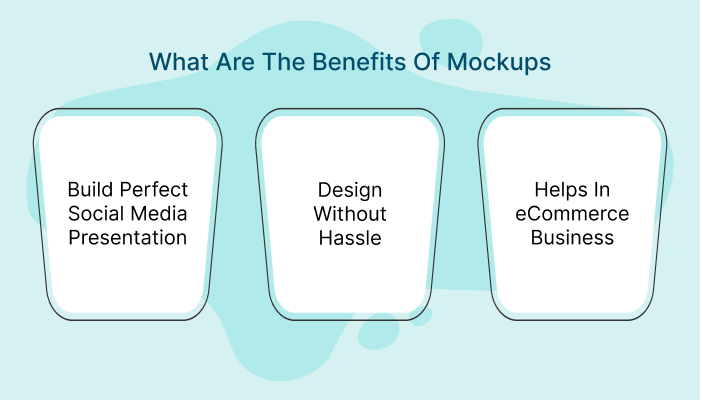 Now that you have understood what mockups are, you should realize that it offers you multiple benefits in business. Here are some significant benefits of mockups:
It helps you visualize your target
It enables you to create a unified team
It allows various investors to get onboard
It expands the library of your marketing assets
It improves the engagement with the audience
It increases lead generation
It allows customers to make purchasing decisions without second thoughts
Using a mockup software tool, you also get to:
1. Build Perfect Social Media Presentation
To break through with your project, you should use wireframe tool to make a perfect social media portfolio that attracts your audience. Mockup software also offers you 3D graphics to visualize creative ideas and put them into use. With the right tools, you can quickly present it on social media, which improves your brand awareness and visibility.
2. Design Without Hassle
There may still be several designers who create a project without mockups. However, mockup software enables you to avoid human errors in the aspect of font sizes and elements. It helps you identify elements that are not well-placed on the mockup. Even though it may seem fine in illustration applications, mockups help you spot minimal errors within a few seconds.
3. Helps In eCommerce Business
Mockups are highly suitable for eCommerce business owners as they get to develop a credible visualization of the product and earn money and the client's attention even before the production. Sometimes, business users are required to make changes according to the customer's needs at the last minute. Here, reliable mockup software enables your organization to develop the final product visualization, which is a powerful advantage for developers.
Luckily, mockups can also be used in advertising, enabling you to showcase the final visualized product on social media, TV, or in the press. It keeps the audience hooked and helps you promote your brand.
Tips To Create Mockups Effectively:
Make use of UI elements and pre-built templates
Keep your audience's likes and dislikes in mind
Always design in a vector form
Understand the mockup software you invest in
Make sure to style the colour scheme from scratch
Check the preview link to improvise
Avoid making drastic changes
Customize the new design according to your needs
Purpose of Using Mockup Software?
A mockup is neither a wireframe nor a prototype. It is a static representation of a product that allows stakeholders and business users to get an overview of how the product might look. Mockups are an important aspect of the design thinking process that provides meaningful feedback to the stakeholders, flexibility, and a realistic perspective. It allows you to gain perspective on the issues like accessibility, poor colour choice, and layout issues that may not have occurred during the low-fidelity wireframing.
Mockups do not represent the functionalities of prototypes but give an overall view of the final product and the implementation of interactive elements like buttons and icons. With the right time and resources, you should invest in mockup software to explore a wide variety of visual designs before choosing one. The main purpose of mockups is:
1. Analyzing Elements
Mockups analyze the visual elements and reveal the clashes that occur, to help your designing team change them. A reliable mockup software enables you to dedicate all your time and efforts to the visuals to bring out different ideas and choose the best possible outcome. Mockups are static and allow the front-end developers to get an estimated time of the development process and analyze areas that should be moved or animated.
2. Editing Before Coding
The critical designs require several edits before landing on a decision. The best possible outcomes are answered before the coding begins. Application or mobile mockups are like landscapes for developers to look at and paint their canvas. Without a mockup, developers cannot implement colours, shapes, and fonts according to their wishes. Mockups allow you to make edits at an earlier stage without hassle before you land on CSS and HTML for the coding process.
3. Implementing Design
A good mockup software lets you test the visual designs thoroughly before implementation. It consumes time and energy to rebuild the entire design in HTML or CSS unless you invest in a valuable prototyping tool to start all over again. Only when you implement a design using mockups will you be able to attract your investors and users. A mockup software should help you build a user-friendly website or application for users to navigate the functionalities with ease.
Best Mockup Software:
One of the best mockup software out there is MockFrame. Developed by 500apps, it is a valuable wireframe software that allows UX/UI designers and product managers to buckle up for a simplified workflow process. This tool has made project management easier and simpler for business owners to get an instant overview of the project and tasks, allowing you to focus on the ones that need more attention and effort.
MockFrame enables you to create simple prototypes for your design with the drag-and-drop interface and helps you create comprehensive wireframes to improve your organization's productivity and collaboration level with different stakeholders in one place. Using the in-built UI components, you can visualize your ideas and work on them to create effective product mockups.
Summing It Up
In a transitional phase between wireframing and prototyping, mockups allow the designers to allocate their time specifically to developing visuals. From mid to high-fidelity of the final product, mockups allow the stakeholders to grasp the understanding of your product without difficulty. Mockup software ensures to highlight the product with confidence, package them using mockups, and create brand awareness online. If you find it difficult to find the best available mockup software in the market, MockFrame is your solution. You should invest your time and resources in this tool to get the best outcome. For more information on the features offered by MockFrame, visit the 500apps website now!
What Makes the Best Wireframe Tool?
#1
Create unlimited mockups and prototypes for your projects
#2
Build mockups using drag-and-drop builder
#3
Choose from the wide range of pre-built templates
#4
Share mocks and collaborate across teams in real-time with notes and activity logs
#5
Design, run user tests and share mockups across teams
#6
Get a control over mock versions
#7
Share designs with your team through mock links
#8
Design mocks faster using components such as containers, charts, images and buttons
#9
Unbelievable pricing - the lowest you will ever find
#10
Everything your business needs - 50 apps, 24/5 support and 99.95% uptime
Join the SaaS Revolution
All-in-One Suite of 50 apps

Unbelievable pricing - ₹999/user

24/5 Chat, Phone and Email Support