5 Common Mockup Design Mistakes to Avoid
Here is the list of mockup design mistakes to be taken care of while creating mocks, and also the essentials to create best designs using powerful tools.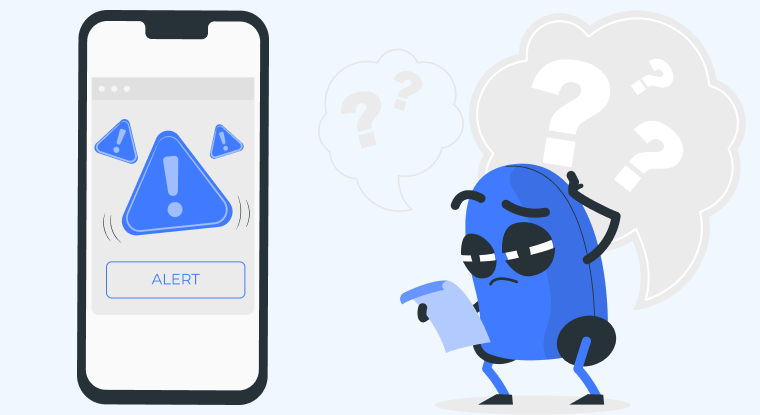 A mockup design is a non-functional static design of a web page or application that includes many of its final design components. A mockup, as a ""static design,"" lacks the functionality of an actual website. Unlike a website that would feature a colorful CTA button that, when clicked, a mockup would not open a form. A mockup may include a cover picture at the top of the page, but unlike a website, it may not involve an active carousel.
List of 5 Common Mockup Design Mistkes to Take Care of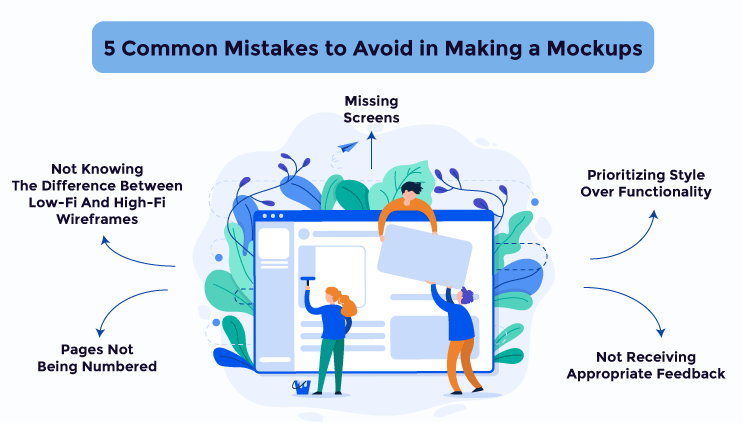 1. Missing Screens
If any screen is missing from our mockup, it is considered incomplete. All screens, including a login confirmation screen and password reset screen, should be present in your mockup. In other words, although the backdrop screen remains unchanged, each change to the image necessitates its independent representation in the mockup and is treated as a separate screen.
If you create your own mockups with a mockup tool, items like Terms & Conditions and confirmation windows are less important. However, if you hire an expert to create a mockup, be certain that you capture every single detail.
2. Not Knowing The Difference Between Low-Fi And High-Fi Wireframes
Wireframes are classified into two types: low fidelity (lo-fi) wireframes and high fidelity (hi-fi) wireframes.
Lo-Fi wireframes are the ideal place to begin when creating wireframes. They are basic and can be easily produced with pen and paper. They are most helpful for describing navigation, layouts, and how items flow on a page. However, this style is ineffective for depicting genuine interactions.
Hi-Fi wireframes put in the intricacies Lo-Fi lacks. They establish the page's visual hierarchy, forms, and other interactive components, as well as labels, instructional text, and paragraphs. This wireframing can help create a clear website representation to allow the development team to begin work.
Designers should be able to employ both since there is no right or wrong way to wireframe. The project's scope and context determine the appropriate sort of wireframe. However, starting with low-fi wireframes is customary and working your way up to sophisticated hi-fi wireframes.
3. Prioritizing Style Over Functionality
Unfortunately, this is one of the most overlooked realities by site designers who allow their personal preferences to interfere. When you add graphical components to a wireframe, it becomes confused with a graphic mockup. This makes it more challenging to establish the visual clarity of the wireframe, and it loses its goal of expressing concepts. A wireframe should always depict a website's purpose and content flow, not its appearance. As a result, incorporating graphical features in them serves no use.
However, that said, your mockup should have consistency. Your online interface, as well as your content and general site functioning, should be consistent throughout all pages. Furthermore, screen resolution, font size, and practically every other design characteristic should be consistent across pages. This must be true even for mobile display website mockups.
4. Pages Not Being Numbered
Numbering pages is an excellent technique to keep your mockup organized while ensuring proper logic and flow. The pages should be numbered to reflect the user's behavior while using the app. The mockup screens should be numbered in the sequence in which users can see them. For example, page 1 should be the initial screen that consumers view. If you have to travel via the homepage to get to the profile, the number for the homepage should be lower. This is simple, yet it is easy to get wrong.
When you get to junction screens, you may have to allocate numbers semi-randomly. In these circumstances, begin with the screens that are most vital to the program and have the most buttons leading to other displays.
With these methods, you can create a fantastic mockup that allows you to assess and hone your app concept critically. Making a physical, screen-by-screen prototype can also assist you in better comprehending your own concept.
5. Not Receiving Appropriate Feedback
Before beginning to wireframe, defining who controls the project and makes the ultimate decision is essential.
The designer is usually in charge of small projects and with single clients. Therefore, he must comprehend the final purpose and vision of the product and properly discuss it with the client. However, in some businesses, it is the founder, but it might also be an art director, design lead, or manager who makes the final call. They may be the ones with the project's idea and vision, as well as a thorough knowledge to provide you with appropriate comments and feedback.
Why are They Essential for Design Projects?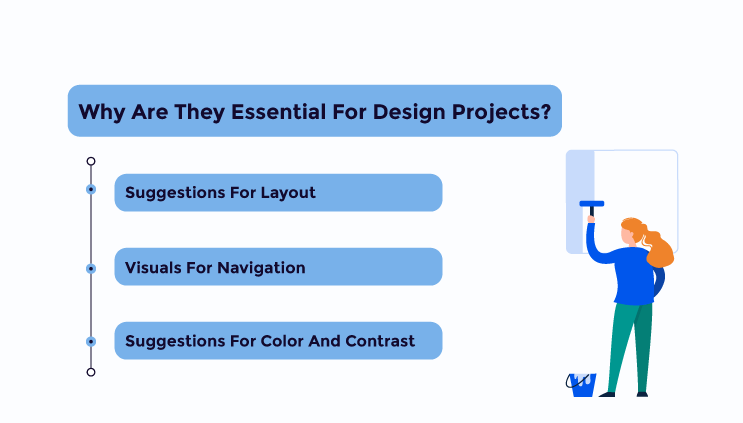 Mockups are immensely beneficial for design projects because of the following reasons:
1. Suggestions for Layout
A mockup design created by mock designer allows you to apply many layouts while also providing a clear picture of the information you've provided. You can also decide on the fonts, widths, styles, and spacing of your application texts. This can also assist you in determining how much space you need between paragraphs, words, and phrases.
2. Visuals for Navigation
The navigation aesthetics are one of the essential characteristics that define the user experience on a web application. After all, no one wants to feel perplexed when exploring an application. Mockups may assist you in deciding on the best navigation graphics to use, including the pulldown and drop-down menus.
3. Suggestions for Color and Contrast
It's safe to state that mockup design offers an incredible range of color recommendations, which means you may never run out of possibilities when it comes to providing that great appearance to your application. Mockups also provide robust contrast options to pick the appropriate backdrop to match your text.
How Does Mockframe Help In Mockup Designs?
MockFrame, by 500apps, is the best wireframe tool to use to make mockups for your websites.
The tool allows users to create flawless designs and high-interactivity prototypes to provide flawless end results. You can handle all complex tools and add-ons necessary to produce user-friendly prototypes. For example, you can use expert-created ready-made templates that are simple to use and adaptable. In addition, you can utilize pre-built dynamic components and widgets such as charts, graphs, navigation menus, etc., to give you a clear idea of what the end product looks like.
Ready to create Mockup Designs with MockFrame? Sign Up 14 Day Trial
MockFrame lets you start with product conception, moving on to UX and UI design, strategy, and creative evaluation, all organized under Design Spaces. It also offers a simple revision workflow system with which you can create, brainstorm, and repeat your UI concepts without losing any information.
You may provide comments in order to have conversations about any prototype UI section. Discuss with the entire team in real-time and set up remote UI presentations for rapid, real-time collaboration.
Last but not least, you can track the overall status of your prototype development with real-time updates provided by the application.
Summing it Up
The mockup design step in website development is commonly overlooked. In fact, it may appear unnecessary in comparison to wireframing and prototyping. Nonetheless, every development team may benefit greatly by segregating mockup production into its own stage.
A team may be purposeful about the design decisions it makes for a specific page by creating mockups and iterating on the designs developed. It allows stakeholders in various roles to examine the aesthetics of a particular page, provide input, and make the page as good as it can be.
So, no matter the size of your business, mockup software like MockFrame are beneficial to ensure that your website caters to your consumer's needs.
What Makes the Best Wireframe Tool?
#1
Create unlimited mockups and prototypes for your projects
#2
Build mockups using drag-and-drop builder
#3
Choose from the wide range of pre-built templates
#4
Share mocks and collaborate across teams in real-time with notes and activity logs
#5
Design, run user tests and share mockups across teams
#6
Get a control over mock versions
#7
Share designs with your team through mock links
#8
Design mocks faster using components such as containers, charts, images and buttons
#9
Unbelievable pricing - the lowest you will ever find
#10
Everything your business needs - 50 apps, 24/5 support and 99.95% uptime
Join the SaaS Revolution
All-in-One Suite of 50 apps

Unbelievable pricing - ₹999/user

24/5 Chat, Phone and Email Support