A Complete Guide for Designing Website Mockup
Website mockups help to provide a clear insight into the look and feel of the website. A website mockup demonstrates what the final product looks like.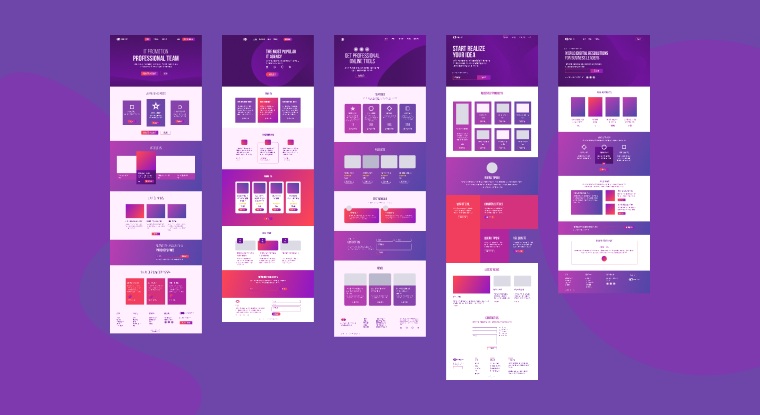 What is a Website Mockup & Why to Create it?
Website mockups developed by mockup tool are a static visual representation of the final form of web pages, applications, and websites. A website mockup demonstrates what the final product looks like. Generally, including a site's basic features such as the main layouts, page elements, branding, colors, fonts, and graphical content, website mockups are sketches or prototypes designed to simulate the final website for product managers, developers, and designers, clients, and other stakeholders.
Created to provide a visual outlook for developing new designs and redesign projects, website mockups help to provide a clear insight into the look and feel of the website.
Creating a website mockup is important for the following reasons:
Website mockups serve as an essential tool to iterate and gather feedback on your design.
They help decide on color schemes and evaluate the color contrast of your website.
Website mockups are valuable models for generating feedback from stakeholders and clients.
They are also used for choosing typography elements and implementing media content such as images and videos.
Website mockups are necessary for complying with web accessibility recommendations.
These tools help ensure that every page is consistent with the overall design.
How to Choose the Best Tool for Designing Website Mockups?
You can choose the right tool for refining and improving your design with the following features that set a good wireframe software apart from the rest.
1. UI Component Library
Various website mockup designing tools have either a built-in UI component library or an option to upload pre-designed kits from third parties. Depending on your need and design requirements, you can choose from either of the two types of tools to create a mockup for your website.
2. Mockup Fidelity Levels
Mockups come in two types: low-fidelity and high-fidelity, and an optimal website mockup designing tool can design both. Low fidelity wireframes are designed for visualizing requirements and getting everyone on the same page early on. If you wish to create a less expensive mockup with easy execution, low-fidelity is the appropriate choice that allows you to iterate through many versions in a short span of time.
Afterwards, you can choose high-fidelity mockups when you wish to use the website for functional, visual, and experience purposes. Being the excellent choice when funding decisions need to be made, high-fidelity mockups give a more realistic picture of the end product. Since you are most likely going to create low fidelity as well as high fidelity mockups, it is recommended to get a designing tool that can effectively cater to both of them.
3. Options for Collaboration and Feedback
Prominent mock designer provide you with viable ways to share your design virtually and collect feedback from teammates, design clients, or other stakeholders. A few ways include getting real-time feedback from the team, facilitating user navigation, and providing information about recent project progress.
4. Hand-off and Export Features
Most developers require only a screenshot to start working. All well-developed mock tools come with hand-off features that allow you to export the individual elements of your design, such as icons or whole screens, into HTML and also inspect the design to understand the CSS code for implementing a quicker development.
5. Multiple Access Points
While working as a team in designing mockups, the best tools come with team collaboration features using which your team can edit and view the design from wherever they are. The collaboration features include adding comments, attaching files, using drag and drop elements, and integrating with other tools. Moreover, such tools are easily accessible from any device, such as a mobile, laptop, or desktop.
Designing a Website Mockup Step by Step
After understanding the concept of a website mockup and learning the various tools required to create a website mockup, you can move forward with the various steps to create one with the prototyping software.
1. Gathering Information
Information is essential to creating an effective, attractive, and high-performance website. You can start by answering a few basic questions.
Why do you need a website? What are the various features you wish to include in it? What are the various services you intend to provide? Who are your target audience - demographics?
Additionally, you need to focus on the website content and the client requirements, such as the required images, color preferences, the company logo and profile, and the vision of the organization. It is recommended to determine the keyword requirements and emphasize search engine optimization.
2. Focus on the Elements
After gathering all the essential information, such as identifying market opportunities and creating user personas, you have to pay attention to the design of your navigational elements. The elements need to be clear and easy to understand. The choice of color plays a key part in instilling a profound emotional effect on users. Choosing a color scheme that provides great UX can make your brand more memorable.
While picking images, quality is essential, and choosing high-quality PNGs or SVG files can prove to be beneficial. Going for an alternative size and boldness of your font helps create contrast and hierarchy while considering typography. The logo needs to be designed in an eye-catching way, and the content structure has to be simple and informative. It is better to pick a consistent style and not mix different types and themes.
3. Go Forward with Interaction
Once you have sorted your graphical design, it is time to add interactive designs to your website mockup. Designing a clickable mockup with mockup software is likely to be accepted by the audience and allows for an interactive user experience. This facilitates effective communication of ideas to stakeholders for user testing and collaboration with developers. You can map a user flow through careful navigation and establish the preferred order of your website mockup.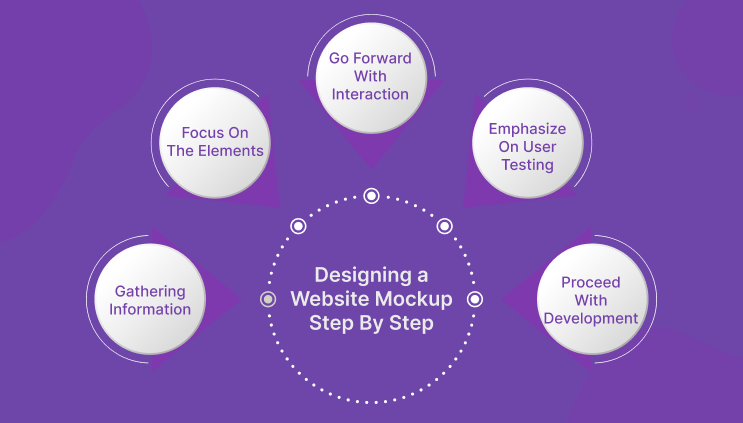 4. Emphasize on User Testing
After establishing your desired layout and content structure for your website mockup, it's time to focus on user testing. There are three approaches to user testing, explorative, assessment, and comparative. If you intend to design a clickable website mockup, it's advisable to focus on the explorative side.
5. Proceed with Development
You can gather user feedback, make the appropriate changes, iterate, and repeat it several times with user testing. After getting the desirable outcome, you can hand it over to the development team for coding and processing. You have to supply all the relevant functional specification documents such as the stylesheets, project scope, sitemaps, user flows, and user requirements to the developers.
Ready to design a Website Mockup for your product with MockFrame? Sign Up 14 Day Trial
Summing it Up
Creating and designing website mockups is a brilliant strategy if you're looking to cut costs and introduce your product to the market faster with guaranteed usability. Moreover, mockups tend to bring your team together and boost good collaboration between design and development teams, which positively impacts the quality of the end product.
MockFrame by 500 apps is a wireframe tool used to create stunning prototypes such as website mockups and diagrams. Loaded with prominent features, it allows for project management, image libraries, design management, UX, and UI prototyping.
What Makes the Best Wireframe Tool?
#1
Create unlimited mockups and prototypes for your projects
#2
Build mockups using drag-and-drop builder
#3
Choose from the wide range of pre-built templates
#4
Share mocks and collaborate across teams in real-time with notes and activity logs
#5
Design, run user tests and share mockups across teams
#6
Get a control over mock versions
#7
Share designs with your team through mock links
#8
Design mocks faster using components such as containers, charts, images and buttons
#9
Unbelievable pricing - the lowest you will ever find
#10
Everything your business needs - 50 apps, 24/5 support and 99.95% uptime
Join the SaaS Revolution
All-in-One Suite of 50 apps

Unbelievable pricing - ₹999/user

24/5 Chat, Phone and Email Support