How Prototyping Software Accelerates Product Development?
Prototyping software is especially beneficial in the creation of systems with a high level of user engagement by providing the precise appearance and feels even before the real programme is implemented.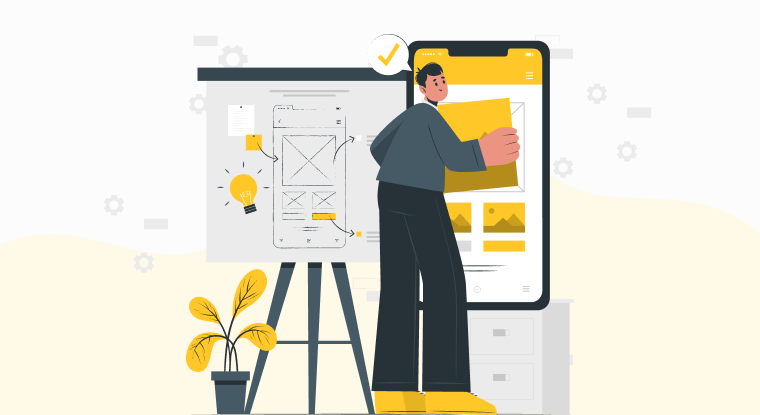 A software prototype is a working model with modest features and functions. The prototype does not necessarily contain the precise logic used in the final software application and is an additional work that must be factored into the effort calculation. Prototyping software creates a software prototype that closely mimics the final software product in design and performance.
Prototyping software is especially beneficial in the creation of systems with a high level of user engagement by providing the precise appearance and feels even before the real programme is implemented. If you're concerned about not having enough time to prototype, keep in mind that there are prototype software available online that do not have to entail any coding at all.
Why is Prototyping Software Useful in Web/App Development?
If you've ever wondered why prototyping software is such a vital part of creating a great user experience, we've got you covered:
It assesses practicality: Software prototypes can assist you in evaluating the progress and direction of applications that are still in development without requiring considerable extra resources.
It maximizes the website/App quality in question: Prototyping also allows developers to fine-tune the website before launch, improving its overall quality and usability. Developers can do testing on the site to notice any flaws in a website's/app's graphics.
It keeps the team in unison: Prototyping software is a great method to test multiple UX approaches with consumers, have the whole team on the same track about anticipated functionality, and make crucial product-level choices.
It secures Investors: When businesses need the participation of external stakeholders, investors, or consumers, prototyping software may be particularly valuable for third-party engagement in correctly demonstrating in-progress software. Entrepreneurs may work on their products based on external input, which can help them secure third-party investment.
Adapting a working user-centric model: Prototyping includes early user acceptability testing. People may test your product early on and offer you vital user input, allowing you to adopt improvements relatively soon and eliminate the extra expenditures that may occur in making changes thereof.
How does it Accelerate Product Development?
1. Agile Development Process
Mockup software is used by many development teams as part of a rapid approach. It employs incremental improvements, along with prioritizing speed and flexibility. Prototyping software allows for early user feedback, allowing the project to begin with a less defined set of criteria and then adjust as it continues. Once a prototype has been agreed upon, the development team uses these specs to produce a functional model.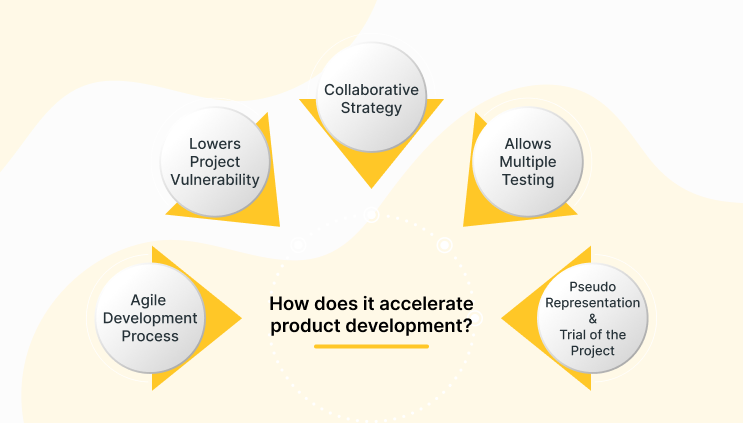 In addition, it entails iterating throughout the design and planning phases to make structural decisions that will guide development. A complete prototype serves as a checklist for development teams, resolving layout, workflow, and functionality questions before they are addressed.
Prototyping enhances user engagement and customer confidence by recognising the flaws and extra additions needed on time. Thus, the use of prototyping tool speeds the development of a website or app. With this speed, firms may gain from being the first to market and the greater market share that entails being the first. Businesses that come to market faster begin to recoup their development expenditures faster, and faster development is likely to cost less in labor.
2. Lowers Project Vulnerability
Prototyping software allows real users to test and offer feedback using interactive prototypes. Prototypes allow firms to identify significant issues without wasting development time. Regular early input from end-users and stakeholders means that problems that might derail the project are identified and discussed before the company invests further money.
Every prototyping endeavor is motivated by a desire to better understand the issue and the risks associated with a specific strategy. Teams can handle hazards before they become product-threatening issues by breaking down complexity early. Teams develop a common knowledge of the strategy, which leads to improved individual decision-making across all positions.
If the team discovers severe issues, they may either address them during the prototype phase, which requires considerably fewer resources than fixing the same issue during the development stage or leave the project with little resources spent. As a result, project risks are reduced, and project delivery time is increased.
3. Collaborative Strategy: Quick Delivery
A team can also benefit from prototyping software as it works in collaboration. It structures its work as a disciplined process of inquiry. Prototyping software allows people to collaborate to apply their intellectual capacities to new conditions to innovate jointly.
The collaborative design comes into effect when individuals work together to mix their various points of view, backgrounds of experience, and understanding of the problem and its context into effective solutions. Wireframe software involves the entire team and allows collaboration in each step of development and involves the entire workforce of the company. Carefully designed and guided collaborative procedures can lead to comprehensive answers in much less time as compared to the traditional approach.
Individual users in huge networks are not just publishing ideas for other people to try out, but also sharing ideas that they want to experiment with or have already tested. The end destination for ideas thus becomes the efficient and speedy delivery of projects.
4. Allows Multiple Testing: Guided Decision
Prototyping software powers multiple testing or split testing, often known as A-B testing. By using this software, developers have the freedom to employ and test two versions of a product and test them in the market to determine which is more appealing. Prototyping software can reduce the frequent failures of the small, medium, and large software development projects. Indeed, as programmes and initiatives have risen in complexity and ambition, the failure rate has increased in proportion.
Given the high degree of uncertainty inherent in innovation initiatives, prototype software is a breakthrough in project delivery as it can underline the following possibilities of the project in concern:
If the feedback indicates that the finished ideas-turned-innovations are compelling in the market, they can be taken to market. Some concepts can be found to be deficient in some essential features, such as a lack of market demand or a lack of functionality. These can be saved and stored, and we will go on to new ideas.
Some ideas can remain promising, but the timing for their implementation appears to be inadequate. These can be saved for later evaluation.
5. Pseudo Representation and Trial of the Project
Prototypes provide a visual picture of the idealized program, giving you a clearer sense of the product. Prototype models are used by entrepreneurs, stakeholders, and testers to understand functionality and features. All stakeholders may assess if the prototype meets expectations and gain a sense of what to anticipate from future development. This aids in strategic planning and setting a realistic objective for the ultimate product launch.
Prototyping software helps entrepreneurs create software prototype models to illustrate or test market their imagined product. Prototypes can also illustrate the software's real operation to assure investor satisfaction and save time for launch. However, choosing the correct prototype for your project is vital to its success.
How does MockFrame Help?
MockFrame, by 500apps is a wireframe tool that allows you to rapidly build mockups of your app's screens and flow using a simple and intuitive drag-and-drop interface. MockFrame makes it simple to solicit input from colleagues and clients, allowing you to make better design decisions more quickly. It has some powerful features packed into it that include the following:
Ready to Develop Your Product with MockFrame Prototyping Software? Sign Up 14 Day Trial
UI Prototyping: Visually design and prototype your website and mobile app. It is an online interactive prototyping software that allows you to create high-fidelity prototypes of your app without any coding or design knowledge.
UX/UI Designing made Simple: Without coding, you can create a user interface and user experience mockups in minutes. MockFrame makes it simple to experiment with various layouts and designs to discover the best solution for your project.
Easy Management: You can easily organize and monitor all of your software project prototypes. It enables you to conveniently manage all of your project files, tasks, and comments in one location.
Collaborative Effort: Real-Time Updates allow you to develop more ideas, write specifications faster, create better software, and collaborate in real-time. You can keep your team informed and working toward a single objective.
MockFrame is a powerful, user-friendly wireframe tool that has access to a plethora of design options. From hundreds of accessible templates, you can choose photographs in only a few clicks to reflect your concept or prototype.
Summing it Up
If you agree on the design and functionality early on, you can have a visual guide to the end product, which can make future development work easier because you will not have to explain every aspect to developers. At the same time, you may build a more realistic timeframe and budget for your app or software's development. Using wireframe creator or prototyping software, entrepreneurs can check if their grasp of project requirements is correct. As a bonus, developing a prototype allows development teams to obtain sign-off on an early project deliverable, accelerating the software development process.
What Makes the Best Wireframe Tool?
#1
Create unlimited mockups and prototypes for your projects
#2
Build mockups using drag-and-drop builder
#3
Choose from the wide range of pre-built templates
#4
Share mocks and collaborate across teams in real-time with notes and activity logs
#5
Design, run user tests and share mockups across teams
#6
Get a control over mock versions
#7
Share designs with your team through mock links
#8
Design mocks faster using components such as containers, charts, images and buttons
#9
Unbelievable pricing - the lowest you will ever find
#10
Everything your business needs - 50 apps, 24/5 support and 99.95% uptime
Join the SaaS Revolution
All-in-One Suite of 50 apps

Unbelievable pricing - ₹999/user

24/5 Chat, Phone and Email Support