Best Low Fidelity Wireframes to Use in 2022
Designing websites and mobile apps entail a lot, one of which is the wireframe process. Most people do not know what developing a well-arranged and visually appealing website or mobile app entails.
Designing websites and mobile apps entail a lot, one of which is the wireframe process. Most people do not know what developing a well-arranged and visually appealing website or mobile app entails. However, designers need to understand how they want to structure the design (text and images). As a creative, you need to come up with the best layout and structure before setting the actual content of the website or apps. To get a good plan and structure in design, you need wireframe tool.
You can refer to the wireframe as your design's logical and functional structure. Fidelity wireframes serve as a guide, help to identify possible errors, and make adjustments before the (final) software or app development process.
The wireframe layout is to designers what the house plan is to a structural engineer. A place to draw, sketch, and assign each space before the main building work starts. Designers use the wirefraiming tools to build the guide, which will help them make the entire website.
List of Low Fidelity Wireframe Tools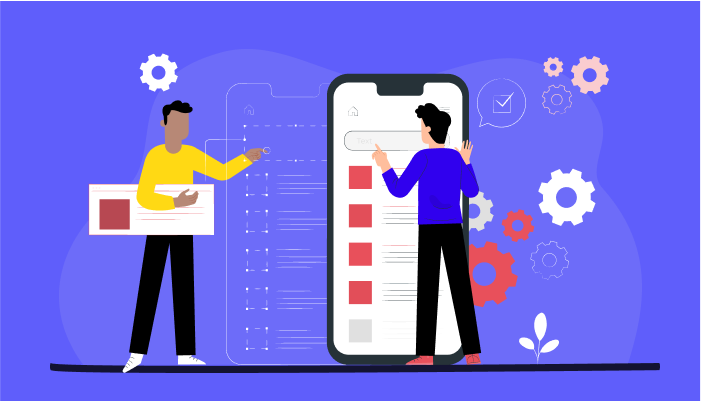 Like every other software out there, several fidelity wireframe tools or software are available for designers. All are designed to help plan, arrange and structure their designs to produce the best interface for your website or mobile application.
Settling for the best Low fidelity wireframe app to use in 2022 for your designs can be a bit hard. However, you can look out for some criteria to help you pick the right tool to use this year. These criteria include; ease of usage, features and functionalities, integration, user interface, and navigation.
Having done extensive research and considered all the criteria listed above, we have simplified your decision-making process. Here is a list of the best low-fidelity wireframe softwares that you can use for your design structure and layout. They are;
1. MockFrame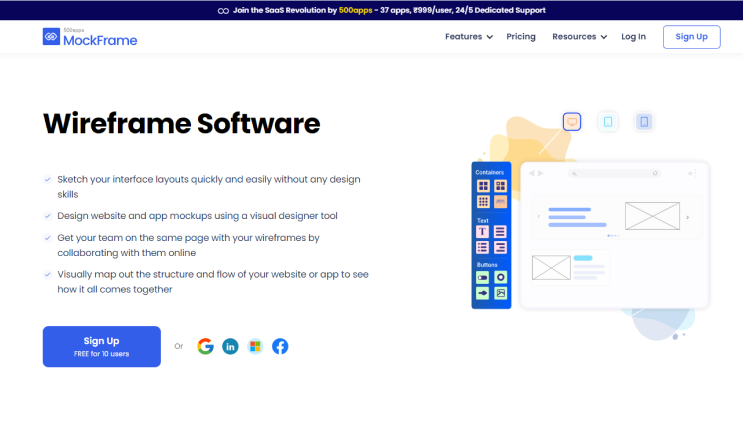 MockFrame is unarguably the best fidelity wireframing software for any website or app designer in 2022. The software allows you to create and arrange your design structure with ease. When compared with the above criteria, MockFrame ticked all the boxes.
The software allows you to create responsive and functional interfaces with visually appealing mockups and diagrams. MockFrame is an all-in-one software as it will enable you to create your design from scratch, collaborate, and make changes to your structural layout on a single server.
For some designers who might run out of design prototypes or tools to combine to achieve the design of their dream, MockFrame is the best prototyping tool for them. It has an array of wireframes and prototypes that you can tweak or use as your guide. You can also collaborate with your team on a single server to expand your ideas and make necessary adjustments.
Ready to create low-fidelity wireframes for your digital product with MockFrame? Sign Up FREE for 10 users
MockFrame is the best User interface (UI) and user experience (UX) design tool. These tools allow you to create your design components and validate your design choices with your clients, partners, developers, project managers, and some selected users before final launch to the public.
The best part of using this design software is the subscription price. You can have unlimited access to all these features for as low as $14.99
2. Adobe XD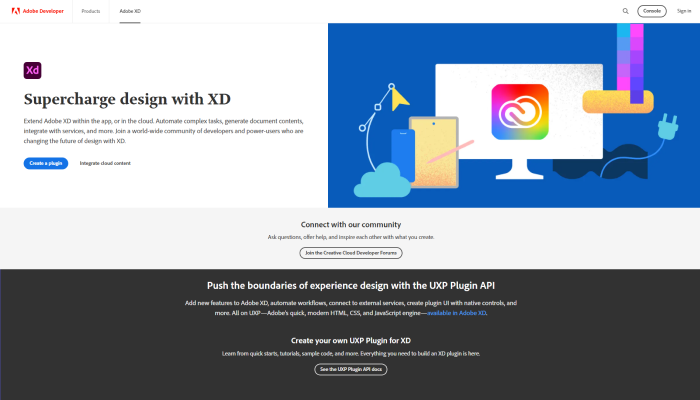 Adobe XD is following MockFrame closely in terms of usability and functionality. That is why I ranked it as second on the list. The software comes in Mac and Windows versions, making it accessible to virtually all designers. While Adobe as a software developer is known for ambiguous software, Adobe XD is relatively easy to use.
Once you open the software on your PC, it displays a set of introductory lightboxes that are interactive and help you get familiar with the design tools. This feature is handy for beginners or designers who are using Adobe XD for the first time.
Adobe XD has the essential wireframe vector design tools for easy navigation. This wireframe creator lets you create your wireframe, mockup, prototype, and save them in the same design file. While other design tools require you to export your mockup and prototype from a third-party app, Adobe XD has its storage. This feature is also available on MockFrame.
3. Sketch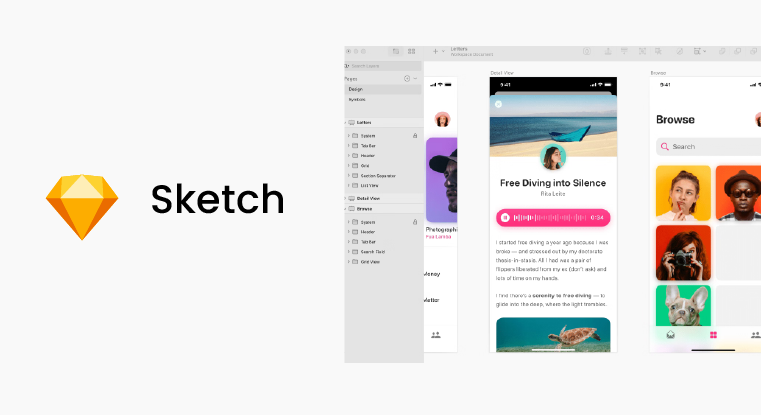 Sketch is a household name among software design. The lightweight vector design tool was launched in 2010 and has since become a trusted tool. It has a simple and easy-to-use interface and allows you to create your design sketch or structure quickly with a combination of artboards and vector design shapes.
Sketch has no built-in User interface components. Therefore, you have to build your UI from scratch or check the online community of designers who have created and shared several free wireframe design kits in the past. In addition, Sketch allows you to collaborate with other third-party apps such as Protopie, Maze, and Flinto to expand your design, source new ideas, and develop a top-notch plan.
With the Sketch Cloud option, you can store your wireframe prototype on the cloud, copy and share your design link, gather feedback and comments, and make the necessary adjustments. This link-sharing process does not require exporting your design or uploading it on any platform.
However, Sketch is only available for Mac users.
Conclusion
Day by day, website and mobile app developers realize the importance of a well-arranged and structured wireframe. Wireframes are meant to be simple, easy to actualize, and as basic as possible. For website and app designers, MockFrame stands out as the most powerful wireframe software available. While there is numerous fidelity wireframe tools out there, you need to ensure that you use the best for your design to achieve a responsive, functional, and visually appealing app or website.
What Makes the Best Wireframe Tool?
#1
Create unlimited mockups and prototypes for your projects
#2
Build mockups using drag-and-drop builder
#3
Choose from the wide range of pre-built templates
#4
Share mocks and collaborate across teams in real-time with notes and activity logs
#5
Design, run user tests and share mockups across teams
#6
Get a control over mock versions
#7
Share designs with your team through mock links
#8
Design mocks faster using components such as containers, charts, images and buttons
#9
Unbelievable pricing - the lowest you will ever find
#10
Everything your business needs - 50 apps, 24/5 support and 99.95% uptime
Join the SaaS Revolution
All-in-One Suite of 50 apps

Unbelievable pricing - ₹999/user

24/5 Chat, Phone and Email Support