4 Best Wireframe Tools for Designers in 2022
Wireframe tools are schematic blueprints that help programmers and designers think and communicate about the structure of the software or product they are working on. The designs you receive from the tools are called wireframes, mocks, or mockups.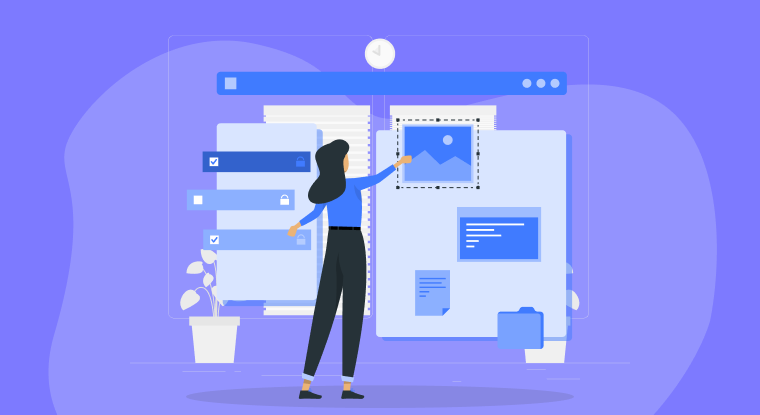 The job of the 21st-century software designer has been made easy with a wireframe tool. Wireframe tools allow designers to quickly and effortlessly draw up the mockup of a design with a few clicks. With the drag and drop feature, designers can use placeholders to put images, headers, and contents in the right place. Then, you can complete the first draft to iterate on later within a few minutes.
Wireframe tools are schematic blueprints that help programmers and designers think and communicate about the structure of the software or product they are working on. The designs you receive from the tools are called wireframes, mocks, or mockups.
Nailing down the proper interface structure is crucial when designing software. There is a need to get across the usability message of the software or website you are planning. Wireframe tools help you save time and painful adjustment work later without writing any code.
Every brilliant design begins as a vague idea [Anonymous].
With the help of wireframing software, you can outline the initial sketch of your idea. Being visually simple, this software intentionally simplifies the arrangement of elements.
Since wireframe is such a vital part of the creation process, various wireframe apps are available on the market. Therefore, we have done in-depth research to create this curated list of the best wireframe software in 2022.
1. MockFrame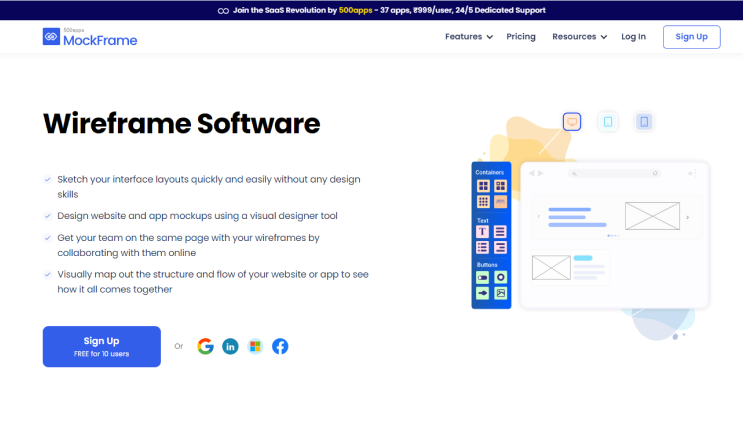 MockFrame is one of the best wireframe software. It helps you to create fully-functional and visually stunning design mockups. The software has powerful features that allow you to actualize the ideas you brainstorm about. In addition, the software is as easy to use and straightforward as you could want it to be.
MockFrame has all the tools you need to actualize your prototyping capabilities. It has a robust photo library to find the perfect stock photos. In addition, it helps you to clean your Media Library and aids the import process of images. The wireframing software helps you achieve your project goals with embedded project managing capabilities within designated constraints. You will be able to meet pre-defined objectives by optimizing the allocation of necessary inputs and applying them as fit.
The built-in UI components of MockFrame make it easy for you to create web and mobile app prototypes in minutes. With simple drag and drop features and readily adjustable templates, elements, icons, and more, you can get your mockup in minutes.
Conduct usability tests on your designs and evaluate the results with the UX features. This allows you to validate design choices with designers, developers, and other people with a vested interest in the project.
Ready to design your product with MockFrame wireframe tool? Sign Up FREE for 10 users
MockFrame allows multiple team members to work on the design simultaneously for collaborative working. They can also leave comments. Once the mockup is completed, you can access the CSS code or export the individual elements.
Get started with MockFrame wireframe designer now. With one pricing of $14.99 for 30+ 500apps software, MockFrame offers a practical and affordable option. Before opting for our paid plans, you can experiment with our free plan and enjoy some of the software's features. Visit www.MockFrame.com now.
2. Adobe XD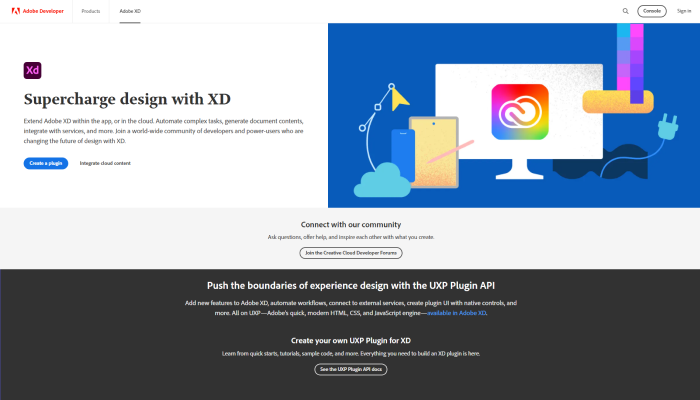 Although adobe has a reputation for designing complex software, Adobe XD has proven to be relatively easy to use. Despite it being designed to work in tandem with other Adobe products, it remains one of the best-paid tools on the market.
The goal of Adobe XD is to streamline the wireframing process. With its array of simple-to-use tools for creating site maps, flowcharts, and storyboards, it is no surprise it is a favourite for designers.
It offers designers a rapid design through its repeat grid option, auto-animation, and voice triggers. It is available on Microsoft Windows and macOS. Unfortunately, to access all its functionality requires a full Adobe subscription.
3. Sketch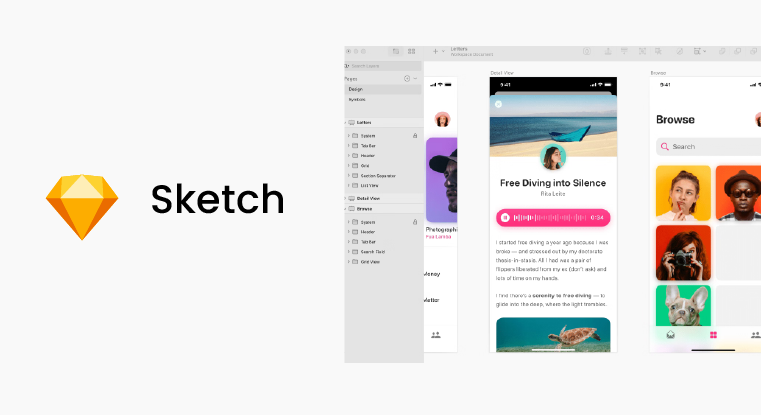 All that Sketch stands for is depicted by the slogan on their homepage, "Powerful. Native. And built for designers." For a product that hit the market in 2010, Sketch has revolutionized the wireframing world. Despite it being limited to Mac-based designers, the popularity of the software hasn't lessened.
Sketch wireframe creator does not come with its built-in UI library. However, it allows the easy upload of third-party kits which are readily available. The unique feature of Sketch is its Symbol function which will enable you to create elements that get repeated automatically across your layout.
Sketch offers a free trial, after which you can purchase the entire program for a one-off fee.
4. Balsamiq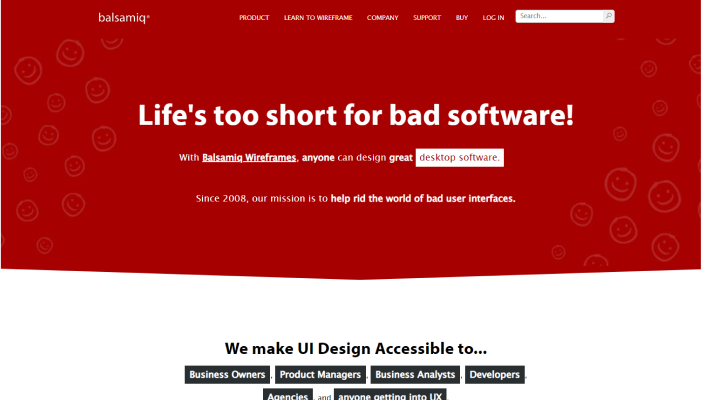 This is a simple web-based wireframe tool available on both Mac and Windows. Just like the other wireframing tools, Balsamiq wireframes are simple and effective. It is best described as a clear depiction of the 'idea on the napkin' analogy.
Most of its features are drag and drop. However, the options designers have for modifying pre-built widgets from the drag-and-drop panel make it easy to understand. Also, there are plenty of examples and wireframe skins for different designs for desktop apps, mobile apps, and websites. In addition, Balsamiq Wireframes boasts a robust library of UI elements.
Conclusion
Despite adverse arguments from some professional designers, wireframing is still relevant. Wireframing stills holds continuing importance in transforming rough ideas into breakthrough designs in the design process. There are a plethora of wireframing tools in the world today. Although the wireframe app focuses on aiding the design process, others have moved towards hybrid products that start with simple wireframes. In all, the significance of wireframes in design is ever-evolving; Wireframes are not going anywhere. Getting the right software will help you stay ahead of the curve and connect to the latest design templates.
What Makes the Best Wireframe Tool?
#1
Create unlimited mockups and prototypes for your projects
#2
Build mockups using drag-and-drop builder
#3
Choose from the wide range of pre-built templates
#4
Share mocks and collaborate across teams in real-time with notes and activity logs
#5
Design, run user tests and share mockups across teams
#6
Get a control over mock versions
#7
Share designs with your team through mock links
#8
Design mocks faster using components such as containers, charts, images and buttons
#9
Unbelievable pricing - the lowest you will ever find
#10
Everything your business needs - 50 apps, 24/5 support and 99.95% uptime
Join the SaaS Revolution
All-in-One Suite of 50 apps

Unbelievable pricing - ₹999/user

24/5 Chat, Phone and Email Support