Create A Flowchart Online with Only One App
The flowchart helps create a representation of the problem and solution. It helps in making a workflow diagram that shows the progress of a project in an easy-to-understand way.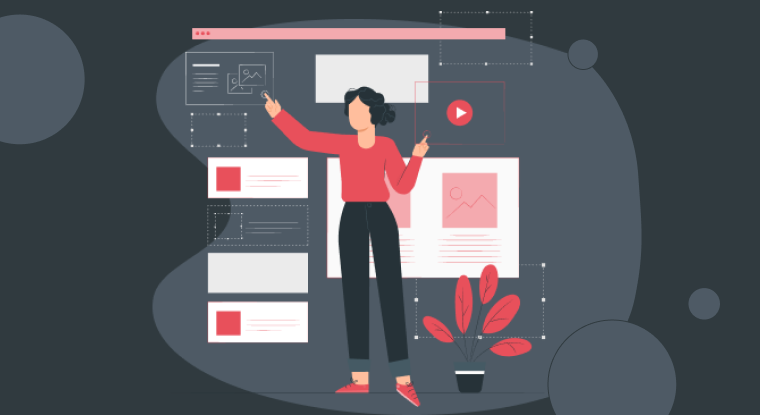 Flowcharts are as essential to design as the foundation of a tower. It formulates the structure from which the building is developed. It communicates the process of design clearly and effectively. An exemplary flowchart answers problems directly and efficiently. As a creative, you can create direct visual solutions through flowcharts.
A flowchart is a diagram that outlines the process of a computer algorithm. It is used to improve, study and communicate complex processes in clear, easy-to-understand diagrams. The representations are often rectangles, ovals, diamonds, and other forms of shapes. Each shape defines a step, and an arrow determines the actions and routes. Each flowchart step should provide options for the next phase until the process is complete.
Fortunately, the advent of technology has made designing flowcharts a lot easier. With an online wireframe software like MockFrame, you can create your flowchart without using two different applications.
This article will guide you on the best tips you should keep in mind while designing your flowcharts. Also, it will advise you on the steps to take when creating your flowchart online.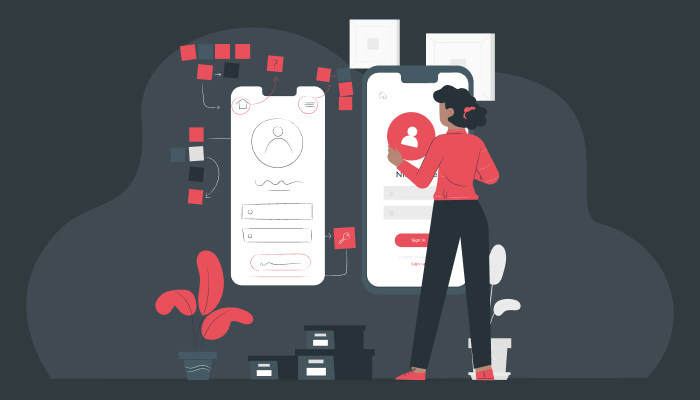 Why Use a Flowchart?
As a business owner, a creative individual, or project manager, there is a need to use flowcharts. Flowcharts help you to define the work process. It depicts all the processes required from start to finish through images.
Flowcharts also help you identify how long it will take to complete a task in your outlined process. You can add columns to represent the time it will take to complete each process. This makes flowcharts most useful for businesses and project managers who need task teams. In addition, it helps to monitor and improve communication for the completion of the project.
Flowcharts make it easy to fix problems. However, workflow is procedural, and it is difficult to fix bugs if you don't know where things went wrong. A flowchart helps you identify the problem, highlighting it with a short arrow or a form of indication. Hence, you can come up with solutions to tackle each problem each step of the way.
Steps to Take while Creating a Flowchart?
1. Select a Template
The first step in designing your flowchart online is by using a template. To create a flowchart with MockFrame wireframe app, you can select a predesigned template from the dialog or create a new template. The predesigned templates are easy to use and contain all the tools, libraries, and shortcuts you need to build a diagram. This makes it easy for you to add new steps to your process, create decision paths, adjust the spacing, and so on.
2. Add Steps and Connect them with Arrows
Flowcharts are made up of shapes and arrows. Arrows show the flow while shapes represent a process, decision, star, or stop. To start your flowchart, you need a round or oval shape. This shape represents 'start' and is built into predesigned templates.
Now you can continue your flowchart by selecting a shape from the library. You can drag the shape to the design area or click the drawing area immediately after choosing the shape. To add text and description to each process, click the "T" or Text tab to add text.
Ready to create a Flowchart with MockFrame? Sign Up FREE for 10 users
Once you are done with the process, you can add a new shape to any direction. Make sure you connect each process with an arrow(s) to show the direction of the process.
3. The Suitable Shapes to Use
Each flowchart shape signifies an action or a step in the process. here is what they represent:
· Rectangle shape represents a process · Oval shape represents s the start or stop · Diamond shape represents a decision · Parallelogram shape represents input or output
Hence, while designing your flowchart, you can add any shape related to your query by using the "Add" button or drag and drop. Keep adding steps until your flowchart is complete.
Some process steps sometimes link back to any of the previous steps. For example, you can add a loop back to the last step by drawing a line from the current shape to the previous box.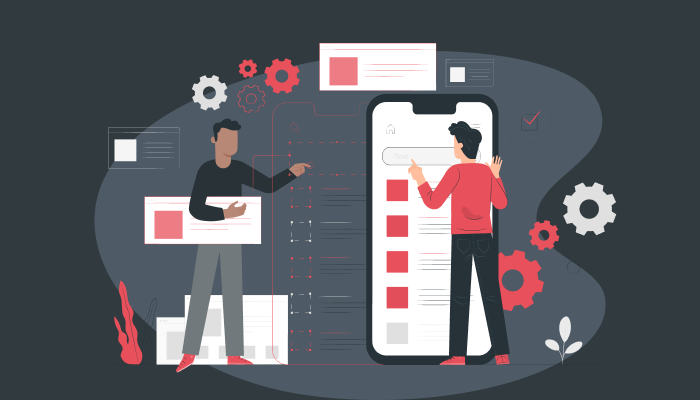 4. Style Your Flowchart
Another benefit of using only an application to design your flowchart is that you can tune your flowchart to your taste. For example, you can add a title, style your text, add decision steps, add or delete steps, hyperlinks, notes, etc.
Your flowchart progress is not cast on stone. You can edit each process if you select it. For example, you can change your text's font size, font weight color, and others. Also, you can drag each step to a new position. Select the shape and hold it with your mouse while you drag; let go drop in a new place. Being automated, MockFrame wireframe tool automatically readjusts your flowchart without any manual redrawing.
It is best practice if you add a title to your flowchart. Select the Text tool from the toolbar and click anywhere to add a label to your work area.
In addition, you can conveniently add hyperlinks and notes to your flowchart. To add hyperlinks, select a shape, open the insert toolbar and click on 'Hyperlink'. In the space dialog, add the URL of the website or the file location on your system. Once the link is successfully added, a small chain icon appears at the lower right corner of the shape. Anyone can click the chain to access the link.
Go to the "Insert" dialog and click on Note to enter your text to add notes. A small sticky note will appear at the lower right of the shape.
Using MockFrame
MockFrame is a wireframe tool that helps project managers, creatives, and business owners to create their flowcharts online. You can do so much like add flowchart themes to redefine the face of your flowchart, image addition dialog, convert your flowchart into tables, add your flowchart into Microsoft word and other third-party applications. Get started now!
What Makes the Best Wireframe Tool?
#1
Create unlimited mockups and prototypes for your projects
#2
Build mockups using drag-and-drop builder
#3
Choose from the wide range of pre-built templates
#4
Share mocks and collaborate across teams in real-time with notes and activity logs
#5
Design, run user tests and share mockups across teams
#6
Get a control over mock versions
#7
Share designs with your team through mock links
#8
Design mocks faster using components such as containers, charts, images and buttons
#9
Unbelievable pricing - the lowest you will ever find
#10
Everything your business needs - 50 apps, 24/5 support and 99.95% uptime
Join the SaaS Revolution
All-in-One Suite of 50 apps

Unbelievable pricing - ₹999/user

24/5 Chat, Phone and Email Support