Importance of Mockup Tools in Product Development
Mocks are an essential part of a product design process. They allow designers to begin high-fidelity prototyping and determine key features like layout, hierarchy, and color of the product or web page.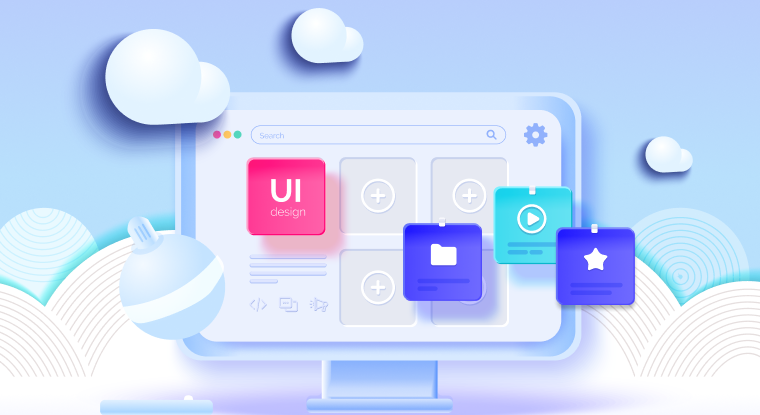 People tend to visualize concepts and ideas. Hence, companies generally create a mockup, or a visual representation, of their products. With a mockup, your consumers can get a glimpse of your product before releasing it, helping you validate your ideas early and say money in money in the process.
What are Mockup Tools?
A mockup tool is commonly seen in web development. They are generally utilized for conceptualizing ideas and transmitting them into a real design. Mockups mimic the final design of your product and incorporate any revisions necessary.
They frequently mimic the website's final design since they incorporate the final navigation structure and other design components. Mockups range in complexity from simple designs with no functionality to interactive designs developed with specialized mockup tools.
Why do Mockups matter for UX Design?
Mocks are an essential part of a product design process. They allow designers to begin high-fidelity prototyping and determine key features like layout, hierarchy, and color of the product or web page. In other words, you can say that mockups provide engineers or designers with a visual reference of the product so that they can begin the development phase.
Apart from this, Mockups also Provide
A realistic viewpoint - Low-fidelity wireframing may not catch all the problems a mockup can. This includes accessibility considerations, layout issues, or poor color choices.
Meaningful stakeholder feedback - Mockups can provide you with a realistic portrayal of the final product because they have better resolution than low-fidelity wireframes and drawings and require less context.
Offers flexibility - Rather than editing the code, mock designer make it easier to change a user interface. All the developer needs to do is rearrange the layout and swap some components.
Importance of Mockup Tools in Product Development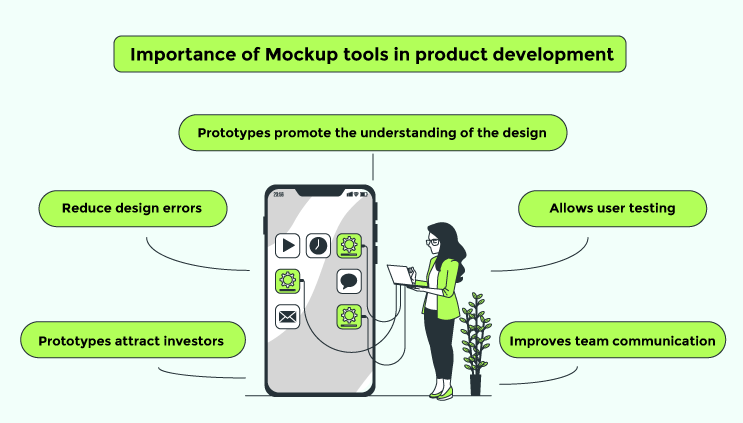 1. Prototypes Promote the Understanding of the Design
Mockups serve as a rough draft of the final product. Let's take a website, for example. It is set up on a skeleton framework known as a wireframe. This allows any aesthetic aspects that may not be compatible to be discovered and adjusted early on.
The same is applicable when producing a product. A mockup software helps you change to suit the client's need in the mockup stage. Manipulating color palettes, saturation, contrast, and even font size and style is faster when designing a website mockup.
In the automobile sector, for example, increasing the size of the trunk by an inch results in an entirely different vehicle. Hence, full-scale prototypes provide the design team with an accurate representation of the vehicle they are constructing. Mockups can also save money and resources from a financial and logistical standpoint. Creating website coding or printing product labels in quantity may be time-consuming and labor expensive. Any problems or alterations throughout the manufacturing phase will lead to a significant waste of time, ink, and paper to start over. Mockups aid in the prevention of such blunders.
2. Reduce Design Errors
Making drastic changes in a product that is near completion may backfire and wash away months or years of hard work. However, with mockup tools, you can visualize the change you need to make and see how it changes the product's functionality.
Imagine finishing a truck and discovering that the backseats are too low. Now you must rework the construction of the vehicle, extending the deadline. Design teams may make adjustments early on with prototypes, eliminating unnecessary effort and expenses. Ford, for example, saves up to $439k each month by adopting 3D printed prototypes.
Another key reason individuals develop mockups before the actual product to receive feedback on their ideas. This will add value to the product's success since you will be able to identify any issue you missed that could adversely affect the design or functionality of the product.
3. Allows User Testing
A target audience has the last word regarding a product. User testing is possible using prototypes, which gives a wireframe designer useful input regarding their product. Thus, the design team may make modifications early on.
Furthermore, designers, engineers, and developers often get caught up in the details or the process. Hence, they fail to look at the product through their client's eyes. Mockups are a visual representation of a product that a client requires. So, they can help the developers change their perspectives.
For example, a developer may use a font he thinks is legible by the demographic, but the customer may not. Therefore, a mockup can help developers and designers better understand the product as mockups are very close to the actual product in terms of detail and quality.
4. Improves Team Communication
Product creation requires effective collaboration among a team of individuals. Using a mockup tool, you can easily streamline your company's workflow, organize tasks by the department and keep your client in the loop.
With the transition to remote work and cross-domain workflows, this extra level of oversight helps keep everyone's workflow on track. Each team may have its own members, projects, and common asset libraries, making cooperation and sharing simple and straightforward.
You can create teams around new initiatives or products. Alternatively, you can organize your teams around your company's departmental teams and present a hierarchy. Furthermore, if you work for an agency or consultancy, you can form different teams for each of your customers. This can help you increase productivity and prevent mix-ups.
Ready to create mockups for your digital product with MockFrame? Sign Up 14 Day Trial
Some Features of a Mockup Tool that Aid in Communication Includes:
Real-time editing allows multiple team members to work on the same file simultaneously.
Live chat enables team members to communicate on the platform without using their party application.
Visual comments so managers can provide feedback on the project or task.
Easy sharing allows developers to determine who has access to the product prototype.
5. Prototypes Attract Investors
People are more likely to believe in something that they can see. Therefore, a product prototype is more convincing than a pitch deck or presentation. Whether you use prototyping tool create a prototype/mockup yourself or use an external agency, a prototype shows just how serious you are about your product and how you are ready to roll up your sleeves and work for hand.
Investors only invest in ideas that can definitely succeed. Therefore, an interactive prototype of your product can do wonders. Investors will have a fully-designed, interactive product to assess instead of a mental picture, which is difficult and unpleasant to create in most circumstances, let alone during a pitch session. Furthermore, a prototype demonstrates your ability to think through and execute your idea to investors. Showing your ability to execute rather than merely talking about it can be highly persuasive.
Summing it Up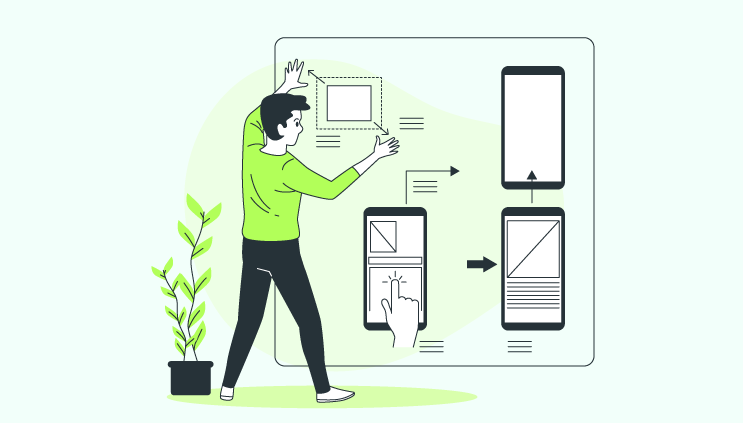 tool in the design process Mockups are an extremely valuable tool in the design process. They directly impact the final design primarily due to the capacity to convey details in a way that a presentation does not. You can also save time and money when it comes to coding and production. This is why mockups are so important in the design process.
If you choose to create a mockup for your product, then, MockFrame by 500apps is an excellent wireframe tool to use. The tool offers ready-made templates you can use to design wireframes. MockFrame also allows remote access so your employees can comfortably work from home or on a business trip. A unique feature of the application is that it enables mockups to be linked to a different screen. Therefore, you can view the designer's ideas in action.
What Makes the Best Wireframe Tool?
#1
Create unlimited mockups and prototypes for your projects
#2
Build mockups using drag-and-drop builder
#3
Choose from the wide range of pre-built templates
#4
Share mocks and collaborate across teams in real-time with notes and activity logs
#5
Design, run user tests and share mockups across teams
#6
Get a control over mock versions
#7
Share designs with your team through mock links
#8
Design mocks faster using components such as containers, charts, images and buttons
#9
Unbelievable pricing - the lowest you will ever find
#10
Everything your business needs - 50 apps, 24/5 support and 99.95% uptime
Join the SaaS Revolution
All-in-One Suite of 50 apps

Unbelievable pricing - ₹999/user

24/5 Chat, Phone and Email Support